"Marlene Dietrich"… the name alone makes a statement. However, every legend has a beginning. She was born Marie Magdalene Dietrich, but by the end of WW 1 Dietrich´s first name was shortened to "Marlene". Marlene Dietrich always was much more than simply a "star", more than only an actress or singer – since the beginnings of her amazing career she was an icon, a trendsetter who created style and fashion, and – most important – she lives on as a cultural symbol. A symbol of decadence during the 1930, a symbol of glamour and beauty, a symbol of anti-fascism, a symbol of survival and – a symbol of sexual freedom.
Dietrich was both gay and straight, masculine and feminine. She was nicknamed "the best dressed man in Hollywood", and her extraordinary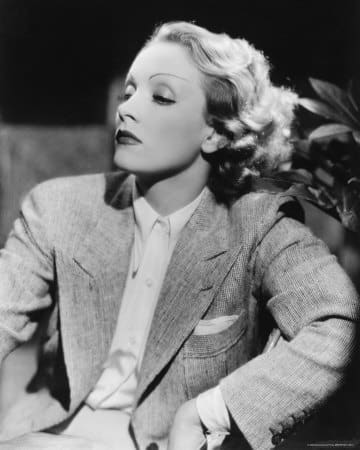 style appealed to men and women of all sexuality's. She crossed the borders of the genders like no other star before her. In 1928, when she already was the "toast of Berlin", she had her greatest stage success yet with a duet with Margo Lion in the revue Es liegt in der Luft (It´s in the Air). Two years later, in her US debut film Morocco, she introduced herself to American audiences as a completely independent woman from nowhere who dresses like a man, kisses a woman and makes Gary Cooper her "girlfriend". This is the image of Dietrich everybody knows. This androgyny remained one of the most important parts of her everlasting myth.
Coming directly from Berlin, where homosexuality and bisexuality were completely accepted and respected in the 1920s, Marlene brought a charming freshness to Hollywood. Morocco was not her only gender-crossing appearance during her sensational Hollywood career. Her androgyny was accentuated in many of her films: She is seen in a very mannish leather suit in Dishonored, and in Shanghai Express she dons her male co-star´s military cap which makes her seem even more powerful than usual. An other highlight in this series of gender-bending appearances is the so-called "lesbian night-club scene" from Blonde Venus where Marlene – again dressed like a man, wearing white tails and a top hat – flirts with the chorus girl before she performs the song "I Couldn't Be Annoyed". An other remarkable film scene which shows Dietrich in pants is the final scene from The Scarlet Empress, where she rides to her victory in a white cossack uniform, becoming Catherine the Great, Russia's most powerful woman.
Aside from Marlene's legendary movie roles, it is important to mention her as a significant aspect that is captured in the Deitrich aura due to her position in the 1930's fight against WWII Germany. Being that she was born in Germany, Marlene witnessed Hitler's uprising and was fortunate enough to leave to begin her legacy in Hollywood and later become an American citizen in 1939. After this event, she was constantly labeled a "traitor" by the German press. Joseph Goebbels, the Propaganda Chief, shockingly begged for her to return to her home country, but she continually rejected the offer. Shortly following, all Dietrich memorabilia and films were banned in Germany during World War II. Due to Marlene's German descent however, she always felt guilty for what Hitler did to the world. Therefore, she decided to help to fight against Hitler. Although such involvement's happened in the latter section of the 1930's, her actions should still be recognized. For example, her work with the USO brought her to North Africa, Italy and to many other scenes of this cruel war (WWII). Always feeling comfortable in a suit, she hopped on the bandwagon to join the war effort by entertaining the American and Allied troops, stayed with them at the front and risked her life. She also helped in the hospitals and made radio broadcasts. At that time she picked up her famous song "Lili Marleen" that would accompany her for the rest of her life. For her bravery during her work with the USO, the U.S., the French and the Israeli governments awarded her medals.
In closing, Marlene Dietrich truly embodied the title of an icon. Her era was a time like no other; just ten years prior to her Hollywood debuts women gained the right to vote. Yet, Dietrich like no other woman in show business demanded the respect that a woman should have, challenged conventional moralities with her gender-bending roles, and still somehow gained affection from all the American public. More so, very few women could compare to Deitrich for this alone, yet the list goes on. She spoke denounced the actions of her homeland, Hitler being her main target. With this in mind, Marlene Deitrich should not only be remembered for the imprint she left on showbiz, but for impact she made in culture as a great American icon.