Despite the three Pulitzer prizes awarded him, Thornton Wilder may very well [have turned] out to be one of the few enduring writers of our time…There have been countless other authors who in his day have been far more "discussed." That was inevitable for a man who has neither hastened to follow nor troubled to oppose the current mode, who has gone his own way, and who has clearly never sought the popularity which has periodically been his (Unger 355).
The key to his significance is his extraordinary ability to combine his philosophy and ethics with his personal experiences in perhaps one of the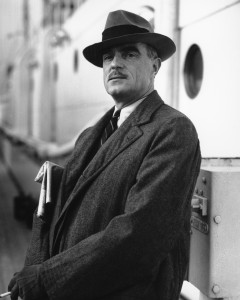 greatest paradoxical plays ever written.
Thornton Niven Wilder was born in Madison, Wisconsin on the twenty-seventh of April in 1897. His father, Amos Parker Wilder, was a strict Calvinist who combined strong economic interests with politics (Block and Shedd 959) in his work as the editor, owner, and publisher of a newspaper. Isabella Thornton Niven, his mother, was the daughter of a Presbyterian minister. They were to influence their son's works greatly. Wilder also had a sister, Isabel, who was to become a distinguished novelist in her own right.
Wilder's early education began in Hong Kong, where his father was serving as American consul general in Shanghai (Goldstone 11).  He was then schooled at Berkeley, California; Chefoo, China; and Ojai, California before completing high school back at Berkeley in 1915. He studied the classics at Oberlin College and Yale University, where he received his Bachelor of Arts degree in 1919 (Unger 356). Wilder spent a year as a resident of the American Academy at Rome, where he began writing The Cabala. Back in the United States he taught French at Lawrenceville High School in New Jersey from 1921-1928 and began doing graduate work at Princeton, where he took his Master of Arts degree in 1926. The Cabala was issued as a novel that year, but was largely ignored by the critics.
"Although over-age when America entered World War II, Wilder sought military assignment…and served in Air Force Intelligence in the United States, North Africa and Italy" (Block and Shedd 959). America's involvement in World War II changed Wilder's perspective. "He had too clear an idea of man's limited possibilities…" (Papajewski 109). Wilder wrote, "When you're at war you think about a better life; when you're at peace you think about a more comfortable one" (Papajewski 109). Wilder wrote his best works with this very theme while in the service.
A mere glance at the titles of Thornton Wilder's writings is enough to establish the wide variety of his accomplishment. Variety there is- "…unlike the work of such contemporaries of his who were content to write the same book over and over under a series of new titles…" (Unger 357) -yet throughout his entire career there can be distinguished the mind and temperament of the author. Whether Wilder takes the reader to ancient Rome, to New Hampshire in modern times, or on a dizzying whirl through the centuries, his hand is everywhere evident.
The Skin of Our Teeth was the center of a great controversy in Wilder's career when Joseph Campbell accused its author of plagiarizing Finnegans Wake, by James Joyce (Unger 370). Joyce's influence appears clearly in The Skin Of Our Teeth, and Wilder has since acknowledged this (Papajewski 110).
"[The Skin Of Our Teeth] was written," its author states, "on the eve of our entrance into the war and under strong emotion" (Wilder 164). He might have added: and with inspired imagination (Unger 370). The work is vast in both dimension and scope; its lines bounce with energy, sparkle with wit, and exult in the joy of living. Here at length, Wilder's military experiences and background is capitalized upon in a marvelous and complicated unity (Goldstone 174). His religious knowledge and training are explicitly displayed. These influences are dramatically presented in the dilemma of normal humanity faced with the recurrent brutalities of fascism, nazism and communism (Unger 370). Henry, the voice of such systems, cries, "I'm going to be free even if I have to kill half the world for it" (Wilder 196). At the sight of him, normal humanity exclaims: "War's a pleasure compared to what faces us now: trying to build up a peacetime with you in the middle of it" (Wilder 197). These words were first written in 1942 at the onset of World War II, and they are even more desperately true in 1994. It is made perfectly lucid that the great world catastrophe in Act III of The Skin of Our Teeth represents World War II. Wilder's ability to combine his military affairs with his convictions and propagate the outcome into his works is what makes them so timeless.
"The theme of this brilliantly conceived play [-and of some of Wilder's other works, though not as obvious-] is the ability of the human race, despite Nature's impersonally destructive powers and man's own catastrophic folly, ignorance, cruelty, indifference, and cowardice, somehow manage to survive – and somehow, for all its readiness, to forfeit all it has gained, to inch ahead of where it formerly stood" (Unger 370-371). "We've come a long ways," sums up Antrobus. "We've learned. We're learning" (Wilder 231).
The situations and complications posed in The Skin of Our Teeth emerge from the repercussions of Thornton Wilder's own religious and philosophical tenets. His optimism and hope for the future are exposed through church-devoted, family man Antrobus as he gives reason to hope so, as is Mrs. Antrobus' steadfastness to the virtues of the hearth, and their daughter's instinctive goodness and gentleness (Unger 372). The qualities exhibited through Antrobus are employed directly from Wilder's own father. Wilder also chose to discuss his beliefs in the "impediments to be reckoned with" (Unger 372): that is, the natural evil and cruelty of Henry.
"The dramatist's brilliant success in this play is due not only to a remarkable mingling of the serious and the comic,…but also to his requiring the actors to step out of their roles to discuss with the audience their own views on the play…and to debate and confess to one another their own personal dilemmas" (Unger 372). In this way, Wilder achieves other dimensions for the work; he also is able to drive home one of his favorite convictions: that the artistic validity of a play depends to a degree upon the acknowledgement that its pursuit of truth is through make-believe.
Although there are few but principal associations between The Skin of Our Teeth and Wilder's own life, there are many lesser connections in his other works. The year he spent in Rome, for example, and the love he shows for its architecture and classic literature is written about with great admiration in The Cabala and The Bridge of San Luis Rey (Papajewski 206). He creates characters similar to himself and to those around him. Aescylus in The Angel That Troubled the Waters, for example, is religious in the same sense that Wilder is, disclaiming any intent to instruct or train (Goldstone 331). Wilder's father set the example for Mr. Webb in Our Town, the editor and owner of the local newspaper. It has also been said that a fellow teacher at Lawrenceville High School was the model for Professor Willard of the same play (Papajewski 169).
To say the least, Thornton Wilder is most conclusively a person who efficiently combined life affairs and milestones with his professional workmanship. Suffice to add that his hobbies never stray far from the business of writing: the study of early records of the theater, exotic languages, and the mores of distant peoples (Unger 374). He has always seen his occupation as a profession (Wilder 4), and surely no playwright or author seems more surely to have been born to the vocation of writer.
BIBLIOGRAPHY
American Writers: A Collection of Literary Biographies.  Ed. Leonard Unger.  New York: Charles Scribner's Sons, 1974.
Goldstone, Richard H.  Thornton Wilder: An Intimate Portrait.  New York: E.P Dutton & Co., Inc., 1975.
Masters of Modern Drama.  Ed. Haskell M. Block and Robert G. Shedd.  New York:Random House, 1962.
Papajewski, Helmut.  Thornton Wilder.  New York: Frederick Ungar Pub. Co., 1965.
Wilder, Thornton.  "The Skin of Our Teeth."  Three Plays.  New York: Harper & Row, 1957.