Roger Maris is probably one of baseball's most misunderstood baseball heroes. Still now after almost 40 years Maris has still not achieved his rightful place in baseball history, the Baseball Hall of Fame. Roger Maris has had a picture-perfect life starting in Hibbing, Minnesota to where he grew up in Fargo, North Dakota. His young life was marked with athleticism.
He excelled at many sports not just baseball. Roger was affluent in football and track among others. His baseball career began with the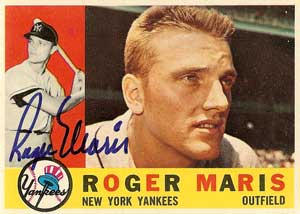 Cleveland Indians in 1957 and he was traded to the Kansas City Athletics in 1958. In 1966, he was traded to the St. Louis Cardinals. Maris retired from baseball following the 1968 season. Roger Maris was born in the small town of Hibbing, Minnesota. He only lived there for a few years until he moved to Grand Forks, North Dakota, where he stayed until he was ten. Maris began to realize his talent for athletics during those years. His father remembered that Roger could always play sports better than all of the other kids. More specifically he recalls that no other kid in the neighborhood could begin to match the distance in which Roger could hit the baseball. He was one of the fastest members of the track team. He was also prominent on the basketball and football teams. He was a local champion of stickball, being the only one who could hit the ball nearly 200 yards. Rogers' family then moved to Fargo, North Dakota. His athletic skills were never used to their potential by the school so he changed high schools to Shanley high school where he was more appreciated. His football, track and basketball talents were used to the maximum potential and Roger gained a local fame. Like many other baseball stars, Roger Maris began his career in American Legion baseball. He played outfield and he also pitched. In this league he was named the Most Valuable Player on the North Dakota championship team in 1950. After graduation Roger had to choose between football and baseball. It was a hard choice for him and he could go far in either sport.
Thank goodness for baseball he chose it. He briefly considered college but he turned down the University of Oklahoma and numerous other colleges that made him offers. A scout report that was made by Frank Fahey in 1950 resurfaced in 1961 and as a result of this the Cleveland Indians asked him to a tryout camp. Hank Greenburg, Cleveland's general manager, liked what he saw and said, "As soon as you get home, have your father call me." So his father called Greenberg and Roger Maris' future in baseball began. So he signed on with the Indians. Soon he was traded to the Kansas City Athletics and then to the New York Yankees where the big moment in his life began. He broke Babe Ruth's homerun record for a season by hitting 61 homers. The thing that haunts him is the fact that there were eight more games in the season that he played compared to Ruth's season. This is where Maris took it hard by baseball fans, reporters, and fellow baseball players. The press refused to acknowledge that Maris broke the record and this has haunted him the rest of his life and even after death. The public, mainly the Yankee fans, which idolized Babe Ruth, refused to let Roger have the new record. The baseball hall of fame never accredited Maris with membership.
No matter what or who, nothing would change. A man by the name of Ford Frick, baseball's commissioner, ruled that if someone hit more than sixty homeruns during their teams first 154 games would be recognized as establishing a new record. However, if the player does not hit more than sixty until after his team had played 154 games there would be a distinctive mark in the record books to show that Babe Ruth's record was set under a 154 game schedule. Well, Maris never beat the Babe's record but he made a new one never the less. He made sixty-one homeruns in 162 games. And, as of now, he still has not been accepted into the hall of fame. Whether or not this destroyed Roger Maris is not known due to how he was. Having grown up on the prairie he was different in temperament than most of the day. Roger seemed nonchalant about the controversy that he left in his footprints. Many people argue that he should have the record in his name but there are also quite a few who say that the record should belong to Babe Ruth. No one will ever know exactly what he thought about the whole record ordeal. He took it to the grave when he died in 1985 of cancer.