Diana Frances Spencer was born on July 1, 1961 in Sandringham, Norfolk. Her parents, John and Frances Spencer, were hoping for a boy to carry on the Spencer name. It took them nearly a week to come up with a name for the baby girl. Eighteen months earlier, her mother had giver birth to a baby boy, but he was so sick that he only survived for ten hours. Lady Frances, twenty three at the time, was sent to many specialists to find out the reason why she could not have a little boy.
Three years after Diana was born, Lady Frances gave birth to a healthy baby boy, Charles. Diana had been christened in Sandringham Church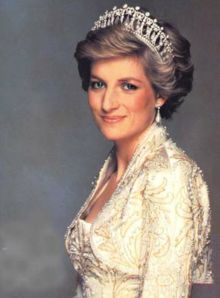 with well-to-do commoners for godparents. Charles, on the other hand, was christened in Westminster Abbey with the Queen of England as his godparent. As a child, Diana spent most of her time playing outside. Close to her home were many woods, horse stables, and they owned a heated swimming pool. The woods were filled with rabbits, foxes, deer, and other animals. As she grew older, she also grew a great love for animals. She also had a love for children. At age eighteen, she became a teachers assistant. She taught dance, drawing, and painting to kindergarten students. When she was six years old, her mother left her father for another man. She went between her mother's townhouse and her father's country estates. Both parents got re-married, so she had two step-parents to please. Because of Diana's royal background, she earned an invitation to Prince Charles's thirtieth birthday party. This is were the two met for the first time. There were hundreds of people at the party, but Charles couldn't take his eyes off of Diana. A few months later, the two became a couple.
"The news about Charles and Diana's love soon spread. The shy young teacher's aide quickly became famous. Everyone wanted to know if the Prince had finally found his Princess. "The answer came in February 1981. Prince Charles asked Lady Diana to be his wife. Blushing with happiness, Diana accepted. The fairy tale had begun-and Diana's life would never be the same."1 During their engagement, Diana frequently visited Buckingham Palace, and the Queen of England for royal training. She practiced walking down the aisle, how to dress like a princess, and how to sit for hours while her portrait is was painted. She also had to get used to be photographed wherever she went. The royal wedding took place on July 24, 1981 at Saint Paul's Cathedral. The wedding was viewed by over 750 million people around the world. After the wedding, the couple took a cruise along the Mediterranean Sea on the royal yacht, Britannia. They were the only passengers on board, but there were 276 officers on board, ready to wait on their every need. After the cruise, they continued their honeymoon at the Windsor family's Scottish estate, Balmoral Castle. On June 21, 1982 at Saint Mary's Hospital in Paddington London, Prince William Arthur Phillip Louis, the future King of England. Two years later, Henry (Harry) Charles Albert David was born.
He was called the "spare" because he would only become king if his brother William couldn't. After the birth of her two boys, Diana made it a point to expose her sons to life outside the palace. She and her boys road roller coasters, shot rapids, and ate at fast food restaurants. Diana insisted that William and Harry attend regular schools. She took them with her when she visited AIDS patients and the homeless. Her reason for doing this was to show the boys that there was life outside of royalty. Princess Diana once told reporters, "I think the biggest disease this worl suffers from…is the disease of people feeling unloved. I can give love…and I'm very happy to do that. I want to do that."2 Giving love is exactly what Princess Diana did. At one point, she was president of 6 of the 27 charities that she was involved in. As years passed, her schedule became very hectic. Although she was extremely busy, she made time to stay physically fit. She visited the gym, played tennis, or swam nearly everyday. Once Diana had Christies auction off 79 gowns that she had collected during her fifteen years as the Wife of Windsor. All the proceeds of the auction went to charity. She made many personal sacrifices from charities. She learned sign language so that she could communicate with the deaf association and she wrote personal notes to the families of hospital patients that she had met.
She raised awareness of social issues such as AIDS, poverty, drug use problems, and homelessness. "Being a princess isn't all it's cracked up to be3," Diana once said. The strain of royal life triggered a fatal eating disorder, Bulimia Nervosa. In the mid 1980's, Prince Charles began to see his old love , Camilla Parker Bowles. The fairy tale life of Princess Diana was falling apart. In December, 1992, Prime Minister John Major announced to Parliament that Charles and Diana were separating. The divorce of Prince Charles and Princess Diana was finalized on August 28, 1996. When the divorce was finalized, she officially lost her title "Her Royal Highness." After the divorce, she began to struggle just as any newly single woman would. "For the first time in her life, Diana had the chance to be mistress of her own fate."4 Over the last few years of her life, Diana had grown estranged from her own family, her sisters Jane and Sarah, and her brother Charles. "None of her family was regarded as important in her life. In January, her longtime private secretary, Patrick Jephson, along with her chauffeur, quit. After her divorce, Diana found a new love. Diana had fallen for Dodi Fayed. Dodi is a multi-millionaire, who's father owned the famous Herrods department store.
Diana no longer tried to hide from the cameras. She was very open with her new relationship. Prince William and Prince Harry did not mind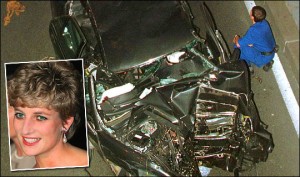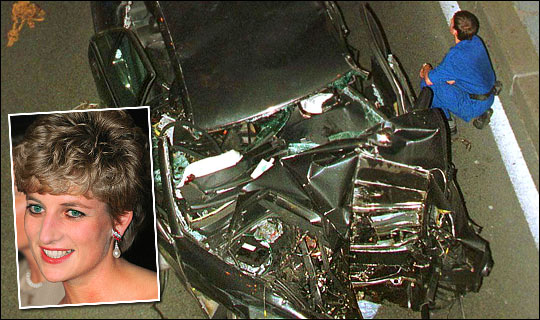 their mother's new life. They said that they were happy as long as she was happy. The day was August 31, 1997. Diana and Dodi's last day together was reportedly romantic. They ate dinner at the two-star restaurant in the Ritz Hotel, which is also owned by Dodi's father. Then they were to spend the rest of the evening at a private villa across the Seine River, but they never made it there. After leaving the restaurant, Diana and Dodi got into their car, not knowing that the driver had been drinking. The car went speeding into the Place de l'Alma underpass in Central Paris shortly after midnight. The car lost control and smashed into the median. Ambulances were called at 12:35 a.m. (Paris time). The police arrived in four minutes, but the first ambulance didn't arrive for eleven minutes. By the time that the ambulance arrived, the driver of the car, and Dodi Fayed were already dead. It was determined later that they both had blood alcohol levels of at least three ties the legal limit.
Princess Diana was found in the rear passenger seat with her arm around Dodi. The paramedics and fireman took nearly an hour cutting Diana out of the wrecked car. At first, her vital signs were stable and she appeared to have just a broken arm, some cuts and bruises, and a concussion. After placing her in the ambulance, the paramedics began CPR. "Suddenly, Diana's heart stopped beating, again. For the next two hours, surgeons literally held her heart in their hands as they performed open-heart surgery and other emergency treatments, including a massive blood transfusion."5 The doctors used cardio-electric shock to try to get her heart beating again. But, it didn't work. The Princess suffered a major heart attack. "After two hours (of massaging her heart), Dr. Riou softly sighed, 'C'est fini, (it's over).'